There is nothing better than breaking a sweat for a cause. This past weekend was a great weekend because I got to participate in TWO great sweat worthy causes!
I was invited by my Team World Vision leader to an amazing event. Steve Spear, the top fundraiser for Team World Vision of all time, was finishing his run from LA to NYC. SAY WHAT?! That's right. Steve had embarked on this journey from the Santa Monica Piers five months ago, ran 35 miles a day five days a week, and was finishing it off in the greatest city in the world. His goal was, and still is, to raise 1.5 million dollars for villages void of clean drinking water. What inspired this trek? He got to visit his sponsored child Winnie in Africa.When he walked 1.5 miles with her on her daily chore to get water, dirty water at that, he carried the enormous container back for her. He struggled, as a fit individual, to complete a child's chore. He eventually realized he wanted to run across America to raise awareness and funds. His mantra?
"If I can run a few miles to take away a few miles from Winnie, I will."
Steve shared a few words with us before we ran down the East River for his final 3.8 miles in an almost 3,100 journey. Naturally, they were inspiring!
We ran to the finish with Steve. When we arrived by the World Financial Center, HUNDREDS of people were cheering him on! It was so inspiring to see perfect strangers, prompted by his support team, witness the completion of an amazing feat. When he got there, it was very emotional. He had been moving for good for months. He shared a few words, and then his amazing family shared their thoughts and congratulations, including the coolest mom in law ever, a wife, son, and daughter.
This woman is amazing. She lived in an RV for 5 months, cheered him on, supported him, and is so stylish and cute. Kudos Mrs. Spear!
Talking with Steve was like talking to an old friend. My running partner and I got to share a few minutes with him, and he is the kind of person that you are instantly comfortable with. We shared our passion for our kids in the states to get healthy, and he was so encouraging. To learn more about Steve and his work toward bringing health and wellness to developing countries, visit www.runningforwater.com

.
Mr. Miller and I also were moving for good this weekend. We participated in Nike's challenge for NYC/NJ to garner 20 million fuel points in order for them to donate 1 million dollars to public school sports facilities affected by Superstorm Sandy. We got invited to their last Summer of Fuel Event, another round of capture the flag. It was fantastic! Three teams, water balloons, water guns unlocked by earning fuel, and tons of sweat. I designated myself as the flag protector/fuel earner. I was doing jumping jacks, high knees, COOL DANCE MOVES, and squat thrusts for over 40 minutes. It was a blast. Team yellow was awesome. Boom.
Mr. Miller and I were on opposing teams, oh the horror! Don't worry, we never saw each other!!!
Thank you @NikeNYC for enabling us to #MakeItCount as we were #MovingForGood!
Overall, it was a great weekend. I earned over my goal of 10,000 fuel points, but NYC/NJ as a whole blew that goal out of the water! We all moved in order to provide the opportunity for students to gain priceless opportunities through athletics.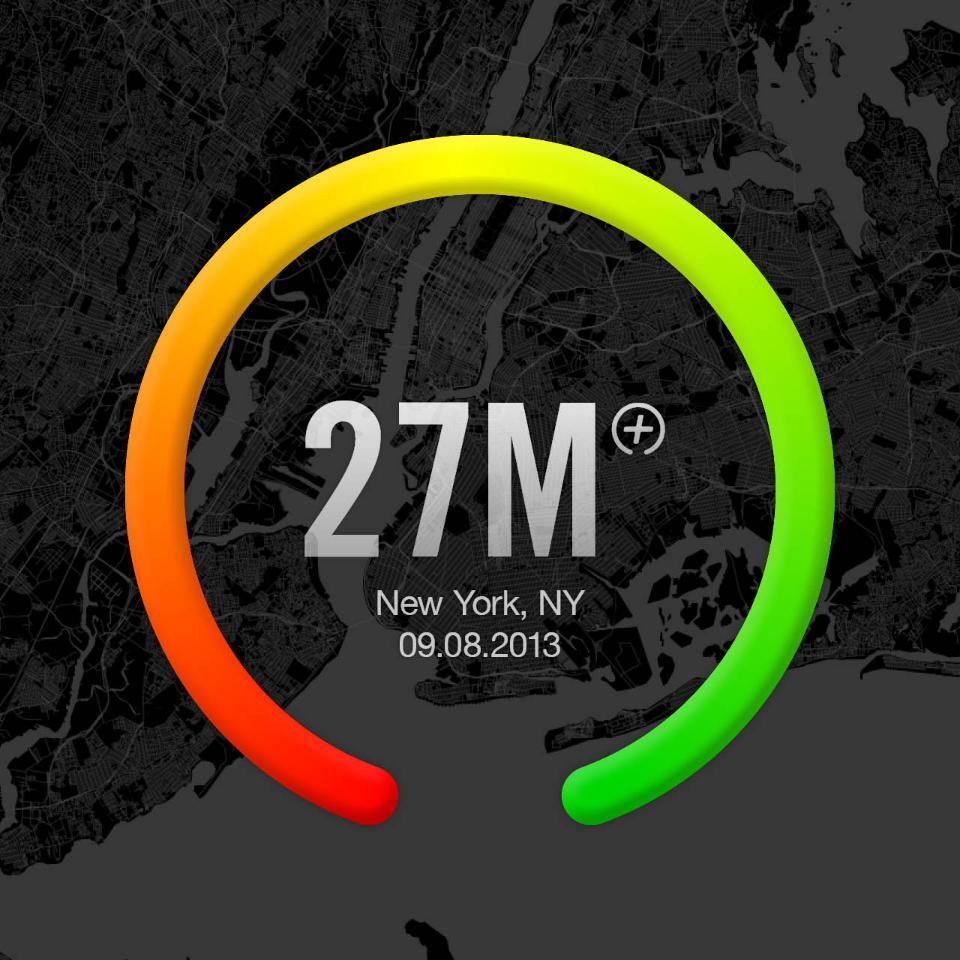 27 million. Go big or go home. That's how we do. NYC/JERSEY Strong!
Thinking about sweating for a cause? Abby posted a great read on participating with charities during runs. If you're thinking of running with a charity but aren't sure, this post should seal the deal for you!
How about you? Do you run with/ partner with a charity? Have you seen anyone moving for good lately? Do charity events inspire you beyond belief?! TELL ME ABOUT IT!