News flash: I'm running the Brooklyn Half Marathon next Saturday.
So, in seven days I'll be running half marathon number 7.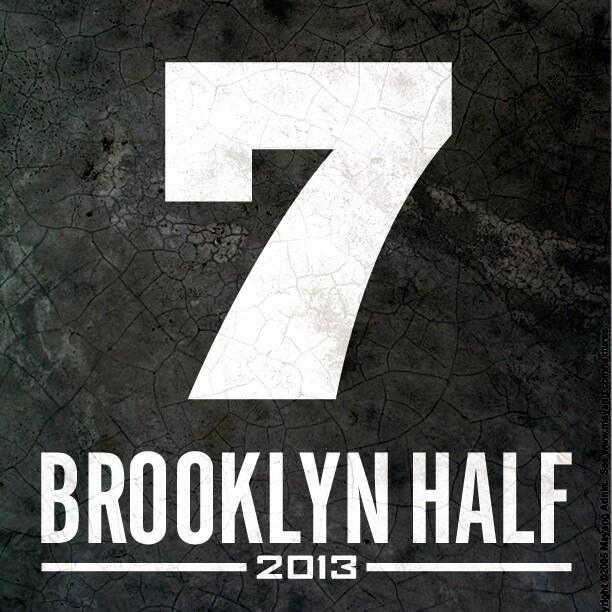 I like to think I've run many "half marathons".
During two marathon training cycles, I have probably run over the distance of a half marathon fifteen times??? Maybe more. I tend to sign up for run race per season and train solely for that race. However,
after a rough goal race where I didn't meet my goal
, I decided that I wanted one more crack at a timed, t-shirt and medal giving 13.1.
The Training.
Only one problem: I haven't really been "training".
After I went away for spring break,
where I did a lot of beach walking, sun bathing, and beverage sipping,
I eased my way back into running with low mileage. We're talking 8 miles a week. Sheesh. I really fell hard off the training bandwagon onto the "fun I'm not training" wagon. When my running partner decided to register for Brooklyn as a "redemption race", she encouraged me to do so, and I said "Nah...". But then, on our runmutes, I started getting race envy...the type that I could cure by actually running in the race myself. So, I'm in.
I had to adjust my training and do a three week cycle build up.
I was actually toying with doing the race when I met up with a Twitter friend to meet/run. We ran on the East River, and I decided to save a subway swipe and run home over the Queensboro Bridge. I had no watch, it was untimed, just me and the road. When I got home I estimated
Google Maps said
I ran just over 6 miles. That's when I decided I could do it. So, my progression plan became 6, 8, and 10 for my long runs. I completed them all, with some speed, hills, and runmutes mixed in.
The differences since my last half marathon.
The weather has been a major factor.
It has been SIGNIFICANTLY warmer in recent days, causing this ALWAYS warm runner to doubt a PR is possible. I ran 10 miles yesterday after work, aka when it was over 80 degrees in NYC. It was bearable in the shade, and a huge confidence booster for me. It wasn't even close to my goal pace, but my route was challenging. I ran over the Queensboro Bridge into Manhattan, the 5 mile loop in Central Park with a run around the Reservoir mixed in.
Can we say GORGEOUS?!
This is an entirely different kind of race.
This is a HUGE NYRR race. In fact, I didn't realize how big it was until I read an article detailing how 20,000 runners will be a huge boost for Coney Island....20,000?! I realize now that I do much better in bigger races. I never felt like quitting during the
NYC Marathon
because everywhere my feet ran, there were amazing spectators cheering my name.
In Philly,
I ended up in
a runner's wilderness
that was close to unbearable. I attribute this to the lack of crowd support and a smaller field of runners around me. I also felt the same issues plagued me during my most recent half. I'm excited to see how I respond in a big race again. Who knows?!
The People.
SO many people are running this race!
I'm excited to join so many amazing runners, and I hope I happen to run into them this Saturday.
TONS of these runners will be out in BK this Saturday! Come watch us fly!!!
How about you?
How successful have you been during a last minute race? Have you ever done a shortened training cycle? Have you done better than expected in a (warm) race late in the spring season?
TELL ME ABOUT IT!