Sadly, it's that time again. Summer is ending, back to school, back to stress, back to life (....back to reality). Lana Del Ray GETS IT.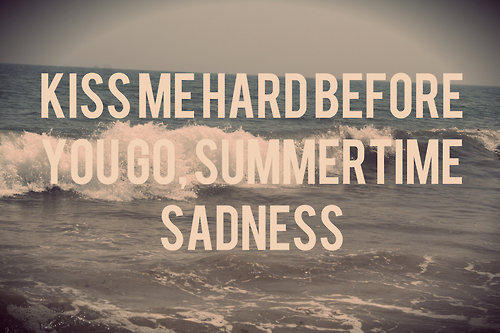 To avoid my summertime sadness, I decided to purchase some photos of the summertime memories. I got an email from Prinstagram promoting their new greeting cards, and I jumped at the chance to get creative little pick me ups! I love sending cards, I think it's a lost art. The site and process were easy to navigate, and I loved the fact that I could pick multiple photos AND choose how many cards I wanted for each individual photo! The card package is one set price, $25; you choose the size, which determines the quantity The options include 36 4x4's, 24 4x6's, or 24 5x7's. I opted for the 4x4's because I wanted as many cards as I could get! When they arrived, I was IMPRESSED with the quality, clarity, and packaging.
I loved breaking out my pink pen to write a little note!
Since I opted for the 4x4's, I had to use other envelopes to send them. Apparently a 4x4 is too small to mail! I happened to have extra envelopes from my Christmas cards, so it all worked out!
A 4 3/4 inch x 6 1/2 inch envelope was perfect!
There are other fantastic items to order as well! Prinstagram was my go-to spot to get a creative gift for my friends and family. I created a mini book for 3 other couples that we did a lot of with; they loved them! I also made one for Mr. Miller, which contained all the fun things we had done that year. It's a great coffee table addition and conversation starter!
Prinstagram also has mini prints, framed prints, STICKERS, and much much more!
WHO WE ARE:
Created by Instagramers, we work out of California or wherever else we find ourselves. Printstagram is still in its early phase, with updates and new products rolling out frequently, we are having fun while fulfilling your Instagram fantasies. These are lovingly created by Social Print Studios.
I was so impressed with this company's product, I emailed to tell them so. The people at Printstagram generously offered to give one lucky reader a gift card to fulfill their Instagram fantasies! The prize is a $32 gift card, which gets you a set of cards AND covers shipping (Always thinking, Prinstagram!) These cards are perfect for...

- Throw Back Thursday cards
- Vacation cards
- Birthday cards
- Love notes
- Anniversary cards
- Baby shower
- Basically EVERYTHING!

Good luck!

Note: Prinstagram donated the gift card for this post, but I paid for my order. These opinions are my own. I received nothing in return besides the gift card to give away.
a Rafflecopter giveaway