NYC's heat wave is no joke.
I think NYCers now know what it's like to live in a sauna! I don't have a gym membership, so I have to find a way to make it through the heat. This past Monday, I ran 4 miles to a Nike Training Club (NTC) workout, and then got WORKED by Will. How did I survive this in 90+ degrees? With a little help from my hot weather essentials...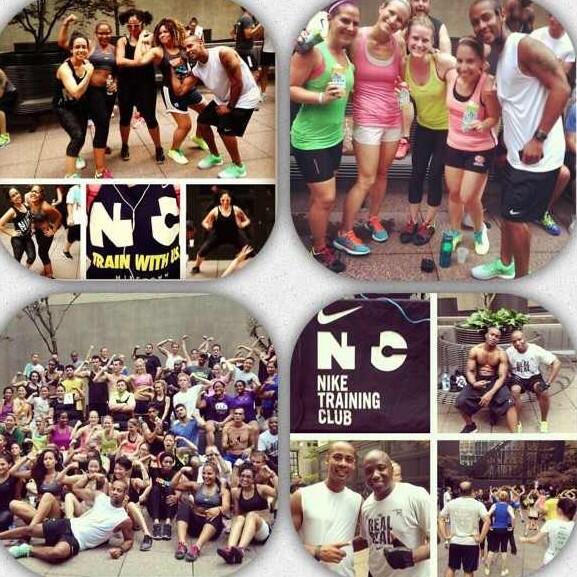 Temperature: 94 degrees. We were FEARLESS at NTC thanks to Will!
Hammer Endurolytes.
These bad boys help me avoid that awful nauseous feelings I used to feel when I ran with just water. They have awesome electrolytes which aren't hidden in sugary food-color dyed sports drinks. If you feel depleted or dehydrated during a run, I strongly encourage you to get these NATURAL supplements that are absolute miracle workers.
My little miracle workers.
Nike apparel.
I FINALLY got running shorts that work! It's a miracle! Enter:
Nike Tech 8" Shorts
. Two years of searching, and I finally found a pair of shorts that don't ride up. They also have a drawstring and a side pocket. They inseam is a bit long, but I'll take a bit long versus riding up constantly! I also purchased the
Dri-Fit Touch Breeze tank top
. I saw this at a NTC workout and had to get it. It felt like I was wearing NOTHING. Since I'm not a sports bra only runner, this was an amazing addition during a hot run.
I was beyond in love with this outfit. Perfect for nasty hot weather!
Cool down before the run.
I've started wetting my hair with freezing cold water before I leave, and it's made a huge difference. A
Sparkly Soul headband
is sure to keep your frizzy hair where it belongs so you can run without annoyance!
I've tried braiding my hair to avoid heavy hair. It somewhat works! This headband DEFINITELY works.
Recovery fluids. I recently got my hands on some Watermelon Nuun, and I never looked back! I can't handle bubbles while running, but I love some Nuun post workout.
If you want some more exercise in the heat tips, check out my guest blog on Rebecca's blog!
How about you?
What are your MVPs when training in the heat? Do you use anything extra in your hydration plan? Have you found any great gear lately?
Tell me about it!!!